Looking for workers compensation insurance for staffing companies?
In any office, making sure your employees are covered in case of an accident is crucial. Workers compensation is an excellent way to ensure that you and your employees are safe and don't come across any unexpected costs or high bills that cannot be paid. So what about staffing companies? Do they need workers compensation insurance? The answer is yes!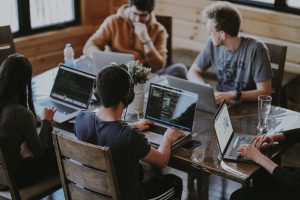 Finding temporary employment for people can hold several unknown variables and, for that very reason, it is imperative that they are covered. Workers compensation insurance can help to reduce expenses and reduce risks. Let's take a look at why staffing companies need workers compensation insurance and where they can find it.
Why do staffing companies need workers compensation insurance?
Staffing companies find temporary work for many people. That work may involve some very physical aspects, and for that, the company must be prepared. In any workplace where workers may be doing physical labor, a workers comp insurance is imperative for the safety of the staff as well as the future of the company.
It can often mean the difference between making money and losing it with industrial employees. That being said, every staffing company should not only have workers comp insurance, but should also review their rates and coverage at least once a year to make sure they are up to date and that their rates are still the best for the company.
How can a staffing company find excellent workers comp insurance?
If you have a staffing company in the Florida area and are looking for the best workers compensation insurance rates and coverage, then ACI Insurance is who you can turn to. ACI is one of the leading insurance companies in all of Florida and offers high quality, affordable commercial and business insurance. At ACI, we will ensure that you get the best coverage for the lowest possible cost.
We believe that great insurance doesn't have to be pricey and we will do what we can to work with you and ensure that you have the very best workers comp insurance or the lowest possible price. We want to ensure that you get the best insurance around with excellent coverage for anything and everything. If your staffing company is looking for great workers comp insurance, then look no more. ACI has what you need and will work directly with you to make sure you get it.
Staffing companies have a great responsibility to cover each and every one of their employees, even if for a temporary job. Coverage should be complete and no employee should have to worry about whether or not they are covered at their work. When a staffing company provides top level workers comp insurance coverage, their employees are going to be happier and feel safer.
We at ACI believe that your staffing company deserves the best and we want to give it to you for a low price. Contact us 407-272-1976 today to talk about your needs and we will be sure to get you the best rates around.