In Florida, there are three different categories of benefits available to employees who are injured on the job and require workers comp:
Medical Benefits
As the employer, you are required to pay for the medical treatment of an injured employee.  That includes:
Hospitalization
Primary doctor and any specialists visits
Attendant care, like home health aides
Tests
Prescriptions
Physical therapy
Mileage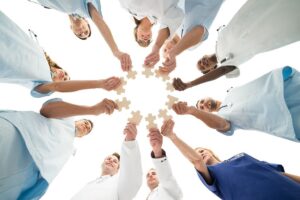 The individual needs to report the injury as work related to the medical providers and to notify his or her employer as soon as possible.  Only the doctor designated by the insurance company is covered; a personal physician does not qualify.  Benefits may be withdrawn if the employee does not comply with the instructions, like missing scheduled appointments.
Compensation
Florida law defines different types of disabilities and determines the amount of compensation.  Each of these must be verified by the attending physician.
Temporary Total Disability – This gives the employee 2/3 of his or her salary (as of the date of injury), but this temporary disability payment is not required for the first week (7 days) unless the disability extends to 21 days or more.  Sometimes, the compensation is 80% for up to six months following the accident.
Temporary Partial Disability – This covers a temporary return to work with specified restrictions and will be paid if this temporary work pays less than 80% of the previous salary.
Impairment Benefits – The doctor will determine when the patient's condition has reached its maximum recovery.  If this is less than a complete recovery, the doctor will rate the individual for any permanent work restrictions and issue a statement.  The extent of the permanent portion of the disability will determine the benefit.
Permanent Total Disability – If the doctor determines that the condition is so severe that the person cannot work permanently, this payment will be issued.
Death Benefit
If the employee dies as a result of a work-related injury within one year of the accident or within five years following a determination of continuous disability, benefits are payable for:
Funeral expenses up to $7,500
Compensation to dependents
Educational benefits to the surviving spouse
All of these benefits cannot exceed a maximum payment of $150,000.00.
If you have more questions or concerns about worker's compensation benefits in Florida, contact us at (407) 272-1976.  You can also contact us through this website, or request a quote for worker's compensation insurance rates.